Citrus Oxy Encapsulation Detergent
Citrus Oxy Encap Detergent Product Features
Rocket is the best peroxide carpet detergent
The first oxy product to offer AFT
Excellent Cleaning Power
Hydrogen peroxide, citrus in an encapsulation carpet cleaning solution
Organic stain remover carpet detergent
NEW T3H Dustless, Soil Encapsulating Polymers
Contains our superior SSHP Oxy Blend peroxide – read more
No crystallizing dust or crunchy carpets
Lower Dilution Rates = Saves $$
Removes Dry, Oily & Organic Soils
Removes Many Organic Stains
Excellent at removing Ice Melt products
Contains a wonderful, light citrus scent
Use for Bonnet, LM, extraction pre-spray, and upholstery
Shelf life in a sealed bottle at room temperature up to 2 years
Health rating 0
pH is 6-7
Peroxide does not freeze. Safe for shipping. Tested to 15º
Proudly Made in the USA
Citrus Oxy Encap Detergent Product Features
Rocket is the best peroxide carpet detergent
The first oxy product to offer AFT
Excellent Cleaning Power
Hydrogen peroxide, citrus in an encapsulation carpet cleaning solution
Organic stain remover carpet detergent
NEW T3H Dustless, Soil Encapsulating Polymers
Contains our superior SSHP Oxy Blend peroxide – read more
No crystallizing dust or crunchy carpets
Lower Dilution Rates = Saves $$
Removes Dry, Oily & Organic Soils
Removes Many Organic Stains
Excellent at removing Ice Melt products
Contains a wonderful, light citrus scent
Use for Bonnet, LM, extraction pre-spray, and upholstery
Shelf life in a sealed bottle at room temperature up to 2 years
Health rating 0
pH is 6-7
Peroxide does not freeze. Safe for shipping. Tested to 15º
Proudly Made in the USA
This stuff is phenomenal! First, you may think nothing about having a great citrus smell would mean anything to you, but your customers will! Second, Revive iT Rocket cut through grease, oil and coffee stains my customer had gotten on their carpet. A couple of passes with the Cimex and the stains were gone and they didn't return. The overall carpet appearance was much cleaner and brighter. I didn't think anything could go beyond what Atomic has done for me, but this product did and is now my go to of choice.
I used it at a car dealership. Client loved it. So did I.  (Sept. 26, 2016)
I have used Revive iT Rocket on two jobs. A dance studio which has hundreds of people walking on every day. Drinks are spilled regularly and vacuumed about once a week. Rocket cleaned better and significantly faster than anything else I have tried. In all honesty I thought the carpet was impossible to make look nice. Not only did Rocket clean by far the best and fastest, it has also remained looking nice for longer than everything else. There has not been a close second place to Rocket.

The second project was hallways and stairwells in a hotel. We had never cleaned at this particular hotel before. Manager wanted to see what we could do. Manager came out after cleaning to let me know, "carpets looked cleaner and brighter than the big name franchise cleaner they had been using" and agreed to a year contract. He was extremely happy and of course so was I.
If you do not have the Bonnet Pro sample pack I urge to order it ! Rocket is in the pack and a quart bottle to try. More than enough to give it try on a few jobs at different dilutions . The only thing I didn't get a chance to try it on was tile before I ran out. Ordered a gallon so I can try it on a new account. This product may replace no less than FOUR from others that I use. Amazed me on synthetic upholstery! Great product.
Just wanted to say I love the new Revive it rocket! I clean apartment carpets so you know they are bad and Revive rocket laughed at the job. If you have an email address that I can send pics to I can send you some great before and after if you need them. Keep up the good work.
I used Bonnet Pro's Revive iT Rocket today on a third floor condo with no furniture in it that my TM couldn't reach. It was the best job I ever did with VLM. The 3 bedrooms with old beige nylon cleaned up so easy. The Hallway and Living Room and Dining Room had cheap polyester carpet. It was much more of a challenge. I used my Orbot with 2 weights on each side. I take the sprayer off when using it for residential. I presprayed the Bedrooms using 6 oz and used a microfiber/scrubstrips bonnet and it was done. Easy.

The polyester I used 8 oz and scrubbed with a Strong CRB with whittaker green stiff brushes first and then the Orbot using Bonnet Pro's Pro Cotton Bonnets. Now that I have the red bristle driver I can use the Pro Cotton's. The red bristle driver is more aggressive and I think cleans better than the velcro driver.

The carpet kept looking better and better as it dried. I did pre vacuum and post vacuum. All the rooms were dry and clean when I left.
What is AFT (Active Film Technology)?
IT'S A REVOLUTIONARY CLEANING CONCEPT – essentially, a new additive for detergents – based on functional proteins. It works by forming protective layers of hydrated protein chains that help to facilitate dirt removal. So, during cleaning, AFT's proteins help to completely displace the dirt and leave an invisible, aqueous protein film that acts as a stable surface protectant.
Our product guarantee is simple. Use the the first full gallon or quart in your case and if you're not happy, please return the unused remainder for a full product refund. If you're not sure if you used the product correctly and would like assistance, please call us. We will be happy to help you. Call 1-877-477-1615 or use our Contact page.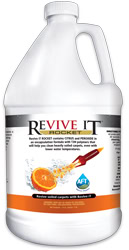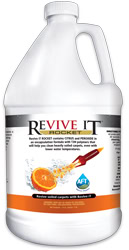 Revive iT Rocket –
Multi-use, Citrus Oxy Encap Detergent
Revive iT Rocket – Multi-use, Citrus Oxy Encap Detergent
Revive iT Rocket multi-use, citrus oxy time-saving carpet prespray. Our encap detergent carpet cleaner contains a powerful blend of non-ionic detergents and a great smelling, organic solvent made from citrus plus hydrogen peroxide, to remove not only oily, greasy soils, but organic stains and discoloration from carpets and fabrics. Revive iT Rocket has the outstanding ability to remove and suspend soil so you can be assured cleaner and brighter carpets, even at lower water temperatures.
This professional strength state-of-the-art citrus oxy encap detergent uses the latest technology in surfactants, degreasers, and builders then adds natural citrus solvents for extra strength for the toughest water and oil-based spots and even works on food and protein-based soils. Revive iT Rocket goes a step further with the addition of a premium peroxide that allows you to remove organic stains like urine, coffee, wine, and other natural colorings.
Rocket is an excellent "go-to" encap for all of your residential and commercial carpets and many upholstery cleaning needs. Don't forget to try it on tile and grout too!
Sign up to get the latest
Bonnet Pro News & Exclusive Special Discounts
Sign Up to Get the latest Bonnet Pro News & Exclusive Special Discounts
Pick the Best Products & Shipping Deals
Touch Here
Get the best product for your needs video
Product use chart
Get the most for your shipping dollars video
Click here.
Super SAMPLE PACK
These discounted sample packs help you explore Bonnet Pro products. Become the legend in your town. 
Making Future Cleaning Easier